Community engagement
The relationships we had with communities in the GoWell study areas aimed to facilitate capacity-building and empowered learning. There were several components to our community engagement work.
Panel
The GoWell Panel was composed of residents from our study areas and was an exchange of knowledge: GoWell learned from the Panel about how its research findings could be usefully interpreted by residents and the Panel learned from GoWell about how it undertook the research.
This image, co-designed with the Panel, illustrates their journey and the outcomes they achieved. Click the image to enlarge it.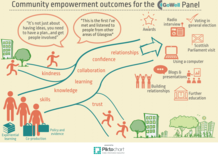 Panel members were not asked to represent their entire communities, but rather used their own experiences and ideas to suggest how GoWell's research could be useful and to help GoWell understand more about the local communities.
The Panel went out to the GoWell areas so that they could explore GoWell's research on site and meet the groups and organisations that were playing a role in regeneration.
The Panel was made up of men and women and the first panel session on 29 May 2015 saw an age range from 13 years old to over 70!
The Panel then held seven monthly workshops - click the diagram to find out more.

Each workshop was held in a GoWell study area and hosted by housing associations and panel members' community-based organisations. See the GoWell Progress Report 2015/16 to see a centre-page spread about how the workshops were designed, what the Panel got up to and what was achieved.
Ten months into the engagement, members reported increased knowledge of GoWell and regeneration matters. Several residents celebrated personal and educational achievements that resulted directly from their involvement in the Panel. Interpretation of the research was a community-based dialogue, enabling residents and GoWell to discover which findings seemed the most insightful to each other. The Panel's engagement with GoWell was commended by the Royal Town Planning Institute for the quality of its work.
Sharing learning
Panel members and their groups were supported to embed learning from the process as GoWell completed the final stages of its research programme.
The GoWell learning workshops
The GoWell Panel held its first learning workshop in Pollokshields in July 2016 to show their local groups how they worked together and what they achieved during the Panel sessions. Another workshop was held in Barmulloch in December 2016 due to interest from residents.
The learning workshops featured an exhibition and a practical activity based on the Place Standard tool to give delegates an insight into the methods used by the Panel to form a collaborative, city-wide group and an introduction to some of the key research findings they had explored. These workshops were supported by NHS Health Scotland, Glasgow City Council and GCPH colleagues.
Feedback from delegates:
"Thoroughly enjoyed the session - food for thought."
"Well facilitated discussions and lively sessions."
"Interesting to see the work and learning the groups have been involved in. Good to be able to chat to members of the Panels. Place Standard tool will be helpful to use in our own area with community members."
"Very easy going which made me feel relaxed. Enjoyed learning about everything."
"I help run a Peer Support Group and will take all that I learned today and chat about it."
"Excellent day - great to experience how the panel would've worked in communities and I will be using the tool in my community."
The Panel was made up of residents from across the 15 core study areas and these were categorised into five types of regeneration approaches:
Housing Improvement Areas (HIA)
Local Regeneration Areas (LRA)
Peripheral Estates (PE)
Transformational Regeneration Areas (TRA)
Wider Surrounding Areas (WSA)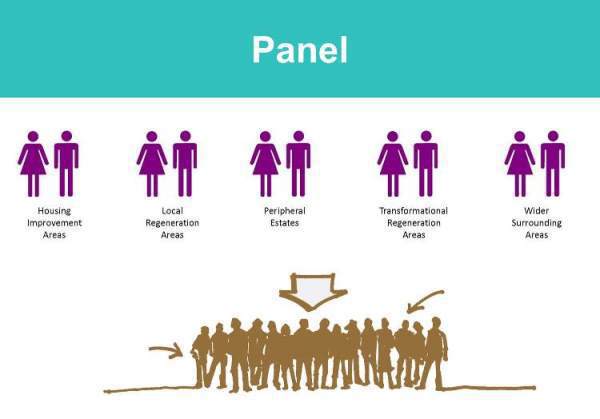 Newsletters
The GoWell newsletters gave individual households updates on GoWell's findings, programme developments and contact details so that residents could get in touch with their questions and comments about the research.
Network
Our network kept subscribers updated with our progress, findings and events. The network received updates about GoWell's work with the Panel and its membership was updated throughout GoWell's community engagement work. The network was free and available for everyone.