GoWell East Schools Intern
Tuesday 19 August 2014
We have recently been joined by a student from one of the schools participating in our study, Maher Kabbani, for a short work placement. Maher is sixteen and just about to start his sixth year at secondary school. He is interested in pursuing a career in medicine and, on the advice of his year Head, approached the team and asked if he could gain some experience through a work placement.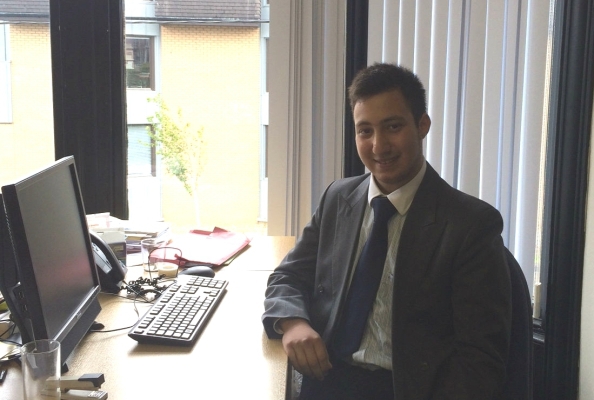 Dr Julie Clark, who planned and supervised the internship, said "The whole team have really enjoyed having Maher here. His curiosity and commitment, while working with a number of challenging tasks, have been a pleasure. As well as enthusiastically undertaking training on a number of different software packages, Maher has also contributed to two pieces of applied research, mapping and analysing social equality issues in relation to health".
Reflecting on the experience Maher said "It went really well. It was fun and a really interesting experience. I've never worked in a proper office before. I helped with the writing of an equalities report. I was mainly producing the graphs from lots of data that I had to look at. The first few days were difficult as I've never used Excel before but now I am familiar with it. I know how to look at and use data and how to produce a graph – so that was really useful".
Maher was mainly based with the GoWell research team at the Department of Urban Studies at Glasgow University, spending some time with Dr Paul McCrorie, a researcher looking at physical activity, but also spent time with other organisations:
"I went on lots of different visits. I met a colleague from the Glasgow Centre for Population Health who talked to me about the different ways of looking at people's health, beyond looking at the individual to the whole – the social determinants and what can impact on someone's health. I also went to the Medical Research Council and spent time with a researcher looking at physical activity in school children. I was able to use a device that you put around your waist to measure physical activity – we had a walk around town and then plugged it into a computer when we went back to the office and were able to see the results. That was really interesting."
Asked what the most interesting aspect of the placement was, Maher responded "The information I found at about looking at people's health in different ways. It was all stuff that I've never thought about before in that way so that was really interesting and useful".
Would he recommend doing a placement of this type to others? "Yes definitely, it was really interesting and the people were really lovely and so friendly".