GoWell in the East End in the news
Thursday 31 July 2014
The Glasgow Commonwealth Games put Glasgow in the spotlight, and members of the team have been busy promoting the work of the GoWell in the East End study into the Games legacy.

Ade was involved in a panel discussion on BBC Radio 5 Live on Monday 28th July, as part of An Audience with Sir Chris Hoy, where Ade spoke on the legacy of the Games and how it specifically relates to levels of sports and physical activity amongst the population in the east end. You can listen to the piece here.
On Wednesday 30th July Ade was interviewed by Sky Sports News in front of the Emirates Arena (see picture below) for a news item to be broadcast after the Games are over. The discussion focused on the contribution of the new venues to a sporting legacy in Glasgow and the east end.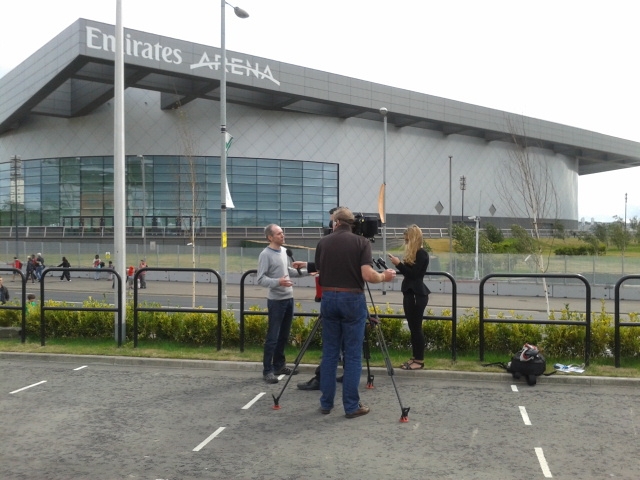 On Thursday 31st July, Ade was interviewed alongside Ian Manson of Clyde Gateway URC on 'Good Morning Scotland' on Radio Scotland about the regeneration challenge in the east end and the possibilities opened up by the Commonwealth Games and associated regeneration programmes and infrastructure developments.
On Friday 1st August Julie Clark took part in a panel discussion with Victoria Derbyshire on BBC Radio 5 live, talking about what regeneration and the Commonwealth Games might mean for people in the east end of the city. Julie talked about the community survey in the east end and the five-year school study, investigating levels of physical activity in young people.
As well as emphasising the importance of sharing research findings with both local people and policy stakeholders, Julie highlighted the importance sustained investment in a clean, comfortable and safe urban environment to support long-term health and wellbeing.
On Monday 4th August, Ade took part in a lunchtime round-table discussion on the John Beattie show on Radio Scotland about the potential legacy from the Games, in sporting and other terms.

Also on Monday 4th August, PhD student Maureen Kidd, along with Ade, took part in a wide-ranging discussion with host Ian Hamilton and producer Pauline Moore about the effects of the Games on physical activity and upon young people and other residents in the East End of Glasgow. This was part of the BBC's Commonwealth Voices radio initiative during the Games period.